Awoke to the marina freezing over and the sound of the ice crunching around the outside of the boat. 
Hopefully this could be the last case of sub-zero temperatures??
Very odd seeing the geese land on ice – don't often see ice inside the boat. An icy cratch is not nice.
Or the bathroom porthole – it was covered with Viv's homemade plugs, which kept the room warm but allowed the window to freeze. The heating came on at 0700 – which was nice – melting and re-freezing the exhuast: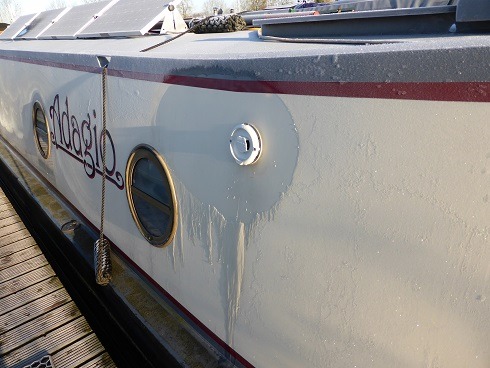 There is one animal who likes the outdoors, whatever the temperature:
We're looking forward to the first visitor of the year, my good friend from Ubley and committee member of the Chew Valley Beer Festival (a clue there of what we'll be up to the next few days!) – Mr David Thomas.  Just hope he's packed his long johns!